By Chris Cardinal on January 19th, 2012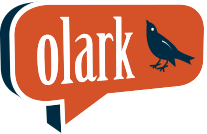 Whilst in the throes of exploring my favorite airfare booking site (Hipmunk), I noticed their live chat tool looked a little… different. It was bouncy, fun, and unassuming. Turns out, they use Olark: by far the most impressive live chat tool I've ever had the pleasure of dealing with.
Olark is absolutely simple to integrate: a single snippet of JavaScript. But it offers a great deal of power: you can push a logged in user's name and email address through the chat, and set their IP address, browser build, and other details as that user's "status" when chatting. (You can even have the chat bot message you that information at the beginning of the session.)
The fun doesn't end there: Olark allows you to actually redirect a user to a different URL, including external addresses, all while maintaining persistent chat. This is absolutely fantastic, as you can literally direct a user to the page they need while still helping them out. Olark reports what page they're currently looking at, and their new co-browsing feature allows you to literally see what your users see, scroll the page for them, and circle certain elements.
This level of interaction is fantastic: it can help clinch a waffling pre-sale customer who has a small question but isn't able to find an answer and doesn't want to go through the trouble of filling out a contact form. Or it can assist with the on-boarding process: new users are the most likely to encounter experience-ruining burrs, problems, small barriers to entry that can be resolved with a simple chat.
The ability to transfer conversations, native Jabber/XMPP utilization (such that I can use Trillian for managing my chats), and a robust API round out the core features of a very compelling product. Olark is free for up to 20 conversations a month and one operator, but the clients we've signed up on Olark needed the Gold plan, since it's the lowest plan that supports SSL.
Check out Olark for pre-sale potential customer engagement, and post-sale onboarding/getting started assistance. Reducing friction for new and potential users is the surest way to build a loyal following or make a sale.
Tagged with: olark
Posted in: Cool Stuff, Reviews