By Chris Cardinal
On July 19th, 2008
We've been using the popular and free Google Analytics hit statistics/analytics package for some time now, but we wanted something more. Google Analytics doesn't allow you to track an individual visitor's progress through the site. Determining when your users exit and how is important and not having this feature was frustrating.
Enter Clicky. Clicky is an amazing tool with a clean, simple interface that lets us track our users in real-time, including their location, browser resolution, OS and all the other goodies you'd expect. It's also free, though they have a premium option for managing multiple sites and with a few additional features tacked on.
The interface is clean, easy to use and intuitive. The graphs are nice and Flashy, just like GA's but everything just comes together: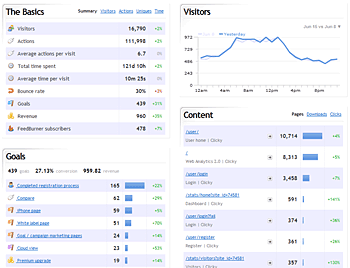 But they've tacked on some additional great features that were sorely lacking in Google Analytics and other packages we looked at. Here's a quick look at a few of them:
Visitor detail includes where they're coming from, their IP address, (or their host/organization name, if it can be resolved) and all of their progress on the site:
It features incredibly easy filtering and custom user tracking, so you can easily and automatically exclude yourself or organization from your own hit tracking data. (GA has some filters like this, but they can be frustrating to update and aren't cookie based, so if your IP changes, you have to remember to change them.)
Clicky also features the stalker-ish and really cool Spy feature. It's a live view of the traffic on your site, so you can see visitors as they appear, where they browse to and what links they click. This is a premium feature, but Clicky is pretty damn affordable, so we picked up a year-long premium account for all of $40. The only downside to the spy is that it's consummately boring when no one's visiting your site, and a little depressing.
There are about a dozen other features that are just done right. They include Google Maps integration when geolocating IP addresses, they intelligently group visitors together to give an accurate "uniques" count, they feature an impressive API and bunches of useful widgets for publishing stats info and they intelligently parse out which search terms are driving you traffic. Some of those aren't unique to Clicky, of course, but the thoughtfulness prescribed to each of the components and the "what if" approach towards building software with so many features (and such a small dev team) really reflects positively on them and their product.
There are a few issues we've noticed with Clicky: Identical pages sometimes are tracked as separate pages, some search terms can screw up the reporting and some scalability concerns have come into play with how they architected the site early on. But they're very transparent and work with the community to build a pretty amazing stats tracking tool that we considered good enough to pay for.
Check it out, as they're offering a free 30 day trial with their pro features:
Get Clicky | Web Analytics 2.0
Tagged with: analytics, clicky, get clicky, google analytics, hit tracking, visitor demographics, web analytics, web statistics
Posted in: Cool Stuff, Reviews
Leave a Reply